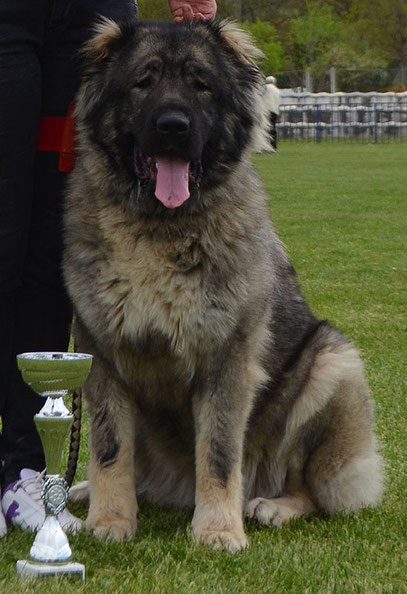 Import from Russia (Perm).
YOUTH CHAMPION of SERBIA
CHAMPION of SERBIA
YOUTH WINNER of the CLUB RUSSIAN BREEDS  (BANJA LUKA 2014) 
7 BOB, 3 CAJC, 4 CAC, CACIB, DERBY WINNER
DYSPLASIA SERTIFICATE / DISPLAZIJA SERTIFIKAT

TITLES & AWARDS / TITULE I SAMPIONATI

PHOTO ALBUM (10 months old)
XX RUSSIAN CLUB SHOW "KAVKAZSKAYA OWCHARKA - RUSSIA" - 1.5.2014.
III place, "Very promissing" in baby class
CAC DEBELJACA - 19.10.2014.
DERBY WINNER, CAJC (PRM), JBOB, BOB!

BANJA LUKA - 2014
SPECIALITY CLUB OF THE RUSSIAN BREED SHOW 
Judge: BELKINA (RUSSIA)
PRINCESSA - YOUTH CLUB WINNER! CW, CAJC.
CACIB ODZACI 18.04.2015 - PRM (CAJC), BOB. Judge - Polgar Andras (CZ)
CACIB NATALINCE 26.04.2015. - PRM (CAJC), BOB. Judge - Ristovic Ivan (SRB)
CAC SURCIN 14.06.2015. - CAC, BOB. Judge - Vladimir Vukosavljevic (SRB)
CAC INDJIJA 20.6.2015. - CAC, BOB. Judge - Dusko Pijevic (SRB)
SREM DOG FEST - 2015
CAC RUMA 27.6.2015. - CAC, BOB
CACIB RUMA - 28.06.2015. - CAC, CACIB, BOB 
WORLD CLUB SHOW - WCCSDC  20.9.2015
The judge - Bukreeva S., Russia